I was born in a little town called Macedonia, Ohio. I grew up with three older sisters: two, four and six years older. My parents were very disciplined in their procreating.

Behind our house was a forest. The forest was my playground. I remember "The Real McCoy". A tree had fallen over an embankment and the dare was to shimmy out to the end and bounce up and down. Better than any teeter-totter. And a Rite of Passage for the kids.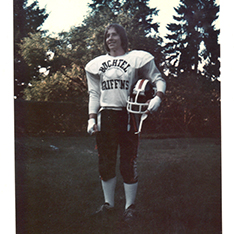 When I was ten years old my father got a job in the big city of Akron, Ohio. So this little country boy was thrown into the inner city.

I went to Buchtel High School, studied music, played football, sang in three different choirs and performed in the Musicals: "Finian's Rainbow", "Once Upon A Mattress" and "The Music Man". I was very lucky. When I arrived at Buchtel, Susie Benningfield, a gal just out of The University of Texas, took over the music department. She was full of energy and built an amazing program. This was especially great for me because I went on to have a career in musical theater.